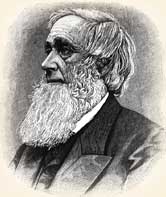 In his
Autobiography,
Asa Mahan wrote, "...I have no occasion to be ashamed to have it universally known that I am the first man in the history of the race who conducted women through a full course of liberal education..." He did this as the first president of Oberlin Collegiate Institute (Oberlin College), in Ohio.
His life and Christian faith are to be credited with far more than that, however. Born in New York in 1800, he graduated from Andover Theological Seminary, after which he pastored Congregational and Presbyterian churches, promoted missions, published influential books and magazines, and served as an educator. When Lane Theological Seminary refused to allow students to discuss the subject of slavery, Mahan resigned as trustee in protest. That is when he was offered the headship of newly-formed Oberlin.
As a college educator he was ahead of his time, urging the use of electives, the teaching of practical skills and replacement of some Latin requirements with English literature. It would be many years before he could convince other educators to accept such changes. He also insisted that black students be trained alongside white. Even at Oberlin, he met stiff opposition on all these points.
Mahan was far from stiff. He rejected the undue formality and unreasonable insistence that students show respect by bowing when they approached a faculty member, a practice common to colleges of the time. He himself would pitch in to help with whatever needed doing, whether laying a sidewalk or preaching a sermon. When some Oberlin students shocked the nation by publicly burning worn copies of their Latin textbooks, Mahan turned it into a joke, saying never before had the classics given off so much light.
Asa longed for spiritual perfection. He became convinced that this was possible, experiencing mystical moments in which God's holy presence moved upon him. He wrote the
Scripture Doctrine of Perfection
a book which was highly influential in the holiness movement, and insisted that the same gifts of the spirit which accompanied the apostles could be ours today.
The fruit of his faith was marked. For example, seeing a fire at the South end of town, he started out in a storm to investigate. He met someone who told him it was his own barn, filled with grain after harvest. "Oh, is that all!" he is supposed to have said, and gone home. The firemen had given the barn up as hopeless; it and all its contents were a total loss.
In old age, Asa Mahan became an English citizen. He experienced hard times, having been swindled out of his money. Yet those who knew him described him as calm and serene, with a talk that turned easily into spiritual conversation. He was convinced that "To be truly blessed, we must fervently love." He died late in the evening
on this day April 4, 1889,
of pneumonia. One of the last things he said was to his wife Mary, "Let us praise God, my dear, for all his goodness today before you go."
Bibliography:
"Asa Mahan." Virtual American Biographies. http://www.famousamericans.net/asamahan/
Fairchild John. Oberlin: the colony and the college. Oberlin, Ohio: Goodrich, 1883.
Madden, Edward H. and Hamilton, James E. Freedom and Grace; the life of Asa Mahan. Methuen, N.J.: Scarecrow Press, 1982.
"Mahan, Asa." National Cyclopedia of American Biography. New York: J.T. White, 1898-
Various inernet articles.
Read this article at - http://www.christianity.com/church/church-history/timeline/1801-1900/asa-mahan-went-home-11630623.html