We didn't get the big announcement while the Pope was in Israel that many expected, but clearly the pursuit of a peace agreement arranged through the Pope is still on the agenda, and definitely bears watching.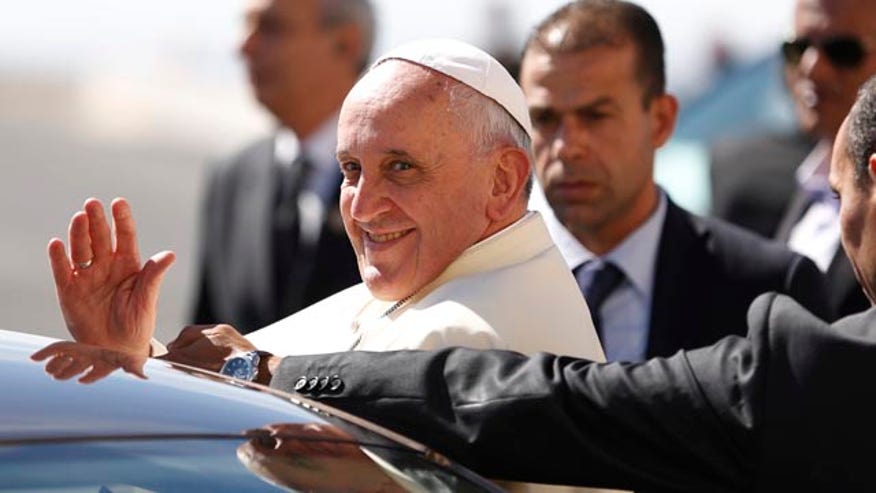 BETHLEHEM, West Bank –
Pope Francis plunged Sunday into Mideast politics during his Holy Land pilgrimage, calling the current stalemate in peace efforts "unacceptable" and winning the acceptance from the Israeli and Palestinian presidents to pay a symbolic visit to the Vatican next month to pray for peace.
Francis issued the surprise, joint invitation after landing in Bethlehem, the cradle of Christianity, in a symbolic nod to Palestinian aspirations for their own state. In another unscripted moment, he prayed at the Israeli separation barrier surrounding the biblical West Bank town and briefly donned the checkered black and white headscarf that is a symbol of the Palestinian cause.
Jubilant Palestinians cheered Francis as he arrived in Bethlehem's Manger Square, shouting "Viva al-Baba!" or "Long live the pope!" Giant Palestinian flags in red, white, green and black and the Vatican's yellow-and-white flags decorated the square, which is home to the Church of the Nativity, built over Jesus' traditional birth grotto.
At the end of Mass in the square, Francis invited Palestinian President Mahmoud Abbas and Israeli President Shimon Peres to pray with him for peace, saying: "I offer my home in the Vatican as a place for this encounter of prayer."
The offices of the Israeli and Palestinian presidents quickly confirmed that they had accepted the invitation, with the Palestinians saying the meeting would take place in June.
The invitation -- and the acceptances -- were unexpected given Francis' insistence that his three-day visit was "strictly religious" pilgrimage to commemorate a Catholic-Orthodox anniversary. But it showed that the pope, who is named after the peace-loving St. Francis of Assisi, has been able to channel his immense popular appeal to be a moral force for peace, even though the proposed meeting will be largely a symbolic affair.
Read the full article at -
http://www.foxnews.com/world/2014/05/25/pope-francis-arrives-in-bethlehem-meets-with-palestinian-leader-abbas/