Perfect start for the "Year of the Comets".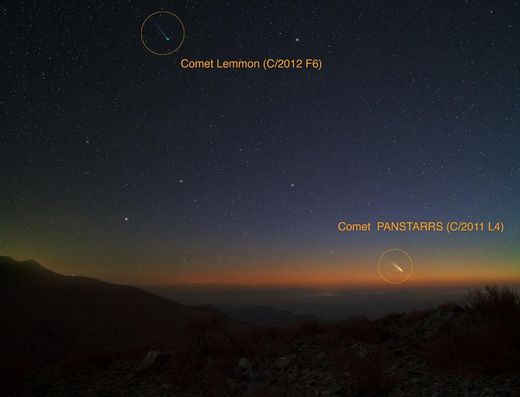 Two comets are putting on an amazing night sky show this month and some intrepid photographers have captured rare views of both celestial objects at the same time.
The photos of
Comet Pan-STARRS
and Comet Lemmon were taken by veteran space photographers in Chile and Australia in late February. At the time, both comets were visible from the Southern Hemisphere, though Comet Pan-STARRS is set to become visible from the Northern Hemisphere later this week.
One of the double-comet photos was taken by Yuri Beletsky, a Magellan Instrument Support Scientist at Las Campanas Observatory located in the Atacama Desert of Chile. Beletsky is an accomplished space photographer and used a Canon 5D Mark II camera with an exposure time of about 30 seconds on Feb. 28 to capture the rare sight of the two comets together.
"Both comets fit perfectly in the field of view of the camera, although only the Pan-STARRS comet was clearly visible by unaided eye," Beletsky told SPACE.com in an email. "The image turned out to be quite deep (you can see many stars across the field) due to excellent atmospheric transparency and darkness of Chilean night sky, and also due to absence of light pollution."