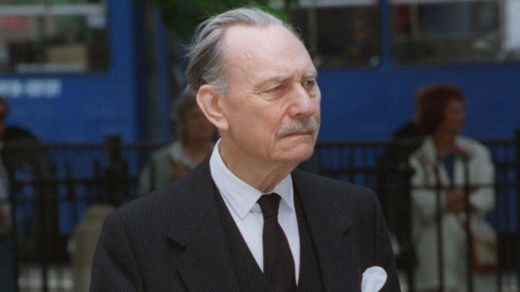 Allegations of satanic worship and child abuse involving the late firebrand Tory MP Enoch Powell have been handed to staff investigating the VIP pedophile sex ring alleged to have operated in Westminster in the 1980s.
Powell, who died in 1998, is one of a series of high-profile figures named in a Church of England (CofE) review into historic sex abuse, which was given to Scotland Yard by the Bishop of Durham Paul Butler.
The claims are reported to involve the abuse of children, as well as satanic rituals.
On Sunday evening the CofE confirmed the names of both Enoch Powell and Leo Abse - an eccentric Welsh MP who died in 2008 - had been given to detectives of Operation Fernbridge, the police investigation into the Westminster sex ring.
Butler, who is leading the Church's review into sex abuse, said he was given the names by the former Bishop of Monmouth, Dominic Walker, who became aware of the allegations when he was working as a counselor in the 1980s.
Walker said Abse's name was given to him by three survivors of abuse during counseling sessions. He further gave the investigation the names of two former Tory cabinet ministers, neither of whom had been previously linked to the investigation.
Butler questioned Walker after discovering descriptions of counseling sessions with adult survivors in a book published in 1991.
"A number of survivors independently gave the name of a particular MP being involved," Walker said. "I don't believe there was any collusion in their stories
."
"
The name Enoch Powell was passed to Operation Fernbridge on the instruction of Bishop Paul Butler
,"
a Church of England spokesperson said.
The claims against the two former politicians come amid mounting allegations of an elite pedophile ring involving establishment figures, which was allegedly covered up by Special Branch police.
Read the rest of this article at - http://rt.com/uk/245157-enoch-powell-satan-worship/