Times Online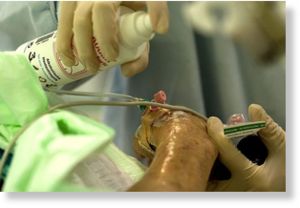 Britain will lead a global fightback against antibiotic-resistant superbugs to prevent the world from being "cast back into the dark ages of medicine", David Cameron is to announce today.
The rise of untreatable bacteria threatens an "unthinkable scenario" where minor infections could once again kill, the prime minister told The Times in a warning about what he described as one of the biggest health threats facing the world.
Tens of thousands of people are already dying of infections that have evolved resistance to common treatments and the World Health Organisation has warned that routine operations and minor scratches could become fatal if nothing is done.
Mr Cameron has become the first world leader to speak out about the threat, signalling escalating global concern at the highest level.
He believes that he has the agreement of President Obama and Angela Merkel for co-ordinated action to find new drugs after raising the issue with them privately at a G7 summit last month.
"
This is not some distant threat but something happening right now,
" Mr Cameron said. "If we fail to act, we are looking at
an almost unthinkable scenario where antibiotics no longer work and we are cast back into the dark ages of medicine where treatable infections and injuries will kill once again
.