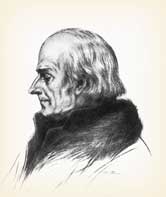 When he died
on this day, August 20, 1384,
Gerard Groote left behind him a band of followers dedicated to reforming the church, spreading the gospel in all Christendom and putting the scriptures into the hands and minds of the common people. Not surprisingly, Groote had even begun translating the Bible. He died before he got far on the task. He death, like his life, was devoted to the body of Christ. Despite personal risk, he visited one of his beloved followers who had been infected by the plague and was cut down himself aged 44. He had labored only ten years for Christ.
Groote was born in 1340. Not until 1374 was he converted. Until then he had lived a life of luxury, for his parents were well-to-do. Immediately he dedicated his life to Christ. Now he gave up almost everything he owned. He would be poor like Christ. Indeed, his entire mission would be Christ-centered and aim at taking men deeper in the knowledge of Jesus. After two years as a guest in a Carthusian monastery, Groote became a deacon and obtained permission to preach. He worked his way through the lowlands -- Flanders, Guelders and Holland--as a traveling preacher, teaching the word of God and decrying the abuses prevalent in the church.
So severe were Groote's attacks on current errors that his authorization to preach was yanked. He was in some danger of further penalties, but the plague carried him off before any action could transpire. Eventually opposition to the lay Brethren caused them to become Augustinian monks.
From the start, Groote, gathered men around him to copy scriptures and religious texts. From the revenues they earned doing this, they supported themselves and helped the poor. They did not beg for alms. The band became known as the Brethren of Common Life. Eighteen houses of these brethren had formed before Groote died. Groote also gathered a group of women called the Sisters of Common Life. These groups did not take monastic vows. Nor were they bound to remain celibate. Any could leave the group at any time. Their aim was to live the life of Christ while engaged in toil. This way of life became known as
Devotio Moderna
(the modern way of serving God). These brethren became deeply interested in education and used their residences as schools in larger cities. They produced some famous pupils.
Among those trained by the Brothers of the Common Life were many men whose names live on. Nicholas Cusa wrote works of considerable influence among the scientists and churchmen of his day and rose to a cardinalate. Thomas á Kempis wrote or collated the devotional classic
The Imitation of Christ
as well as the lives of Groote and some other early leaders of the New Devotion.
He, too, was Christ-centered. "If a man knows what it is to love Jesus, and to disregard himself for the sake of Jesus, then he is really blessed." Decades later, another pupil, Erasmus, became the greatest scholar of his age and an agent of reform. With Groote's death, his influence did not die.
Bibliography
Eerdman's Handbook to the History of Christianity. Editor Tim Dowley. Berkhamsted, Herts, England: Lion Publishing, 1977.
Gilliat-Smith, Ernest. "Brethren of Common Life." Catholic Encyclopedia. New York: Robert Appleton, 1914.
Henkel, Julia S. "Geert Groot," in A History of Religious Education. Editor Elmer L.Towns. Grand Rapids, Michigan: Baker, 1975.
Hyma, Albert. The Brethren of the Common Life. Grand Rapids, Michigan: Eerdmans, 1950.
Kempis, Thomas á. The Founders of the New Devotion. London: Kegan Paul, Trench, Trübner & Co., Ltd.; St. Louis: B. Herder, 1905.
Schrantz, Charles B. "Groot, Greer." Catholic Encyclopedia. New York: Robert Appleton, 1914.
Read this article at -
http://www.christianity.com/church/church-history/timeline/1201-1500/gerard-groots-death-by-association-11629867.html